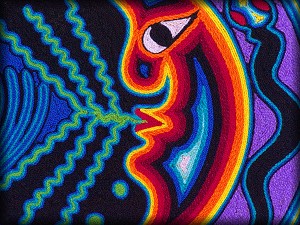 Welcome to Cuna Cueva Gallery. We invite you to explore unique, one-of a kind hand-crafted art from Mexico as well as custom designed furniture and jewelry.

The gallery features pots (ollas) made by Mata Ortiz potters. Each ceramic piece is unique and crafted one at a time. If you find a style that you like but it is already sold, let us know and we will be happy to find another in that style by the same artist. Also, if you are interested in ollas by specific artists such as Juan Quezada, we will happily assist you in your acquisitions.

The gallery also features yarn paintings by Huichol artist José Benítez Sánchez. Each Sánchez piece is an original work of art depicting Huichol cosmogony and creation stories. These exquisite eye-catching works are a beautiful addition to home or office and an instant conversation piece. On the back of each piece, this artist writes a description of the work in Spanish and signs it.

Our gallery represents Doug Feakes, a custom jeweler who works in silver, gold, and platinum. He is currently experimenting with multiple-point pendants. Our on-line gallery sells Doug's unique jewelry and exhibits many of his one-of-a-kind custom pieces. If you are interested in working with Doug to create an heirloom ring, wedding ring set, bracelet, pendant, or broche, please contact us. We will help you set up a telephone appointment with Doug.

Cuna Cueva Gallery represents Contemporary Southwest by Grazier Ltd. This beautiful southwest-style custom furniture provides warmth to any home or office. Ron and June Grazier will work with you to design and personalize your furniture.