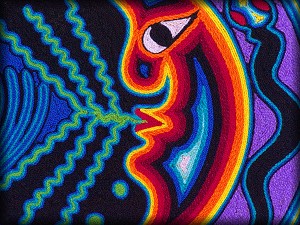 What does Cuna Cueva mean? In Spanish cuna means cradle or retreat and cueva means cave. The family who owns the gallery loves caves, caving, outdoor travels, photography and art.

Cuna Cueva specializes in Mata Ortiz pots and ceramic ware, Huichol yarn paintings, Mexican ironwood sculptures, and custom jewelry featuring Yogo sapphires.

Cuna Cueva Gallery is located in Hillsboro, New Mexico. Cuna Cueva is easy to find in Sierra County at the junction of Highway 152 and Highway 27. Hillsboro is a quaint, tiny town nestled in the scenic foothills of the Gila National Forest and the Black Range Mountains. First settled as a 19th century mining town of the old Weat , today Hillsboro is home to a thriving community of artists.

When planning a visit to Cuna Cueva Gallery, please call ahead and make an appointment. The telephone number is (575) 895-5050. We are located on Highway 27 up the hill and right behind the Hillsboro Fire Station.

Hillsboro offers visitors atmosphere and architecture of the old west with a friendly eclectic mix of local expertise in regional food, art, music, history, and wildlife.

Enjoy our southwestern high desert landscapes--North Percha Creek, historic buildings and homes, scenic drives, birding, the Caballo Mountains in the east, the Black Range Mountains in the west, public lands and ranch lands in between. Hillsboro can boast of more or less 150 residents and is home to restaurants, beds and breakfasts, a small motel, galleries, antiques, gift shops, Black Range Museum, Hillsboro Union Church, Hillsboro Community Center, Hillsboro Community Library. For more information, visit the Hillsboro Web site.

Several local artists have formed Percha Creek Traders, a gallery located on Highway 152 across from the Post Office amd the Barber Shop Café with a 10,000 Villages shop, and next to the General Store Cafe. Visit the Traders Web site.

We hope you enjoy our art and artists on this Web site. If you like a piece that has already been sold, we'll be happy to assist you in acquisitions of a similar style. We invite you to e-mail us or call us at (575) 895-5050. See our additional contact information. Click here for travel maps and Gallery location.